What Does Quality Real Estate | Interior Photography Look Like?
What to Look For In a Quality Real Estate | Interior Photography
I recently came across a post in Portland, photographer's, Larry Lohrman's excellent blog Photography For Real Estate. It speaks to what quality real estate / interior photography looks like. And in a shameless self promotion, I'm using one of my recent images below.
Using HDR photography for an entire real estate, interior & architectural shoot is in my opinion is not going to render clean, crisp images. Sure, there are times when its warranted. For instance, exterior shots when their is too much dynamic range between the brightest areas and shadows areas for the camera sensor to capture and it just not possible to light the entire scene. Even then, HDR use should be light handed. Too much of a heavy HDR hand renders cartoonish looking captures with inaccurate color casts and halo's and ghosting.
I agree with Scott Hargis. Capture it all in camera, tethered whenever possible, with however many off camera speedlights you need with as little as possible Photoshop afterwards. Below is a diagram of a recent interior shoot that I photographed in Laguna Beach. Photographed with my Canon 1D Mark III and a 24mm-70mm 2.8 L. Five Canon 580EX speedights were used for this shot, all in manual mode, with various settings from 1/4 power down to 1/32 power, triggered by Pocket Wizards. Kitchens typically take the longest to light. There can be allot of different surfaces you need to take into consideration. Here we have the black glass front of a wine fridge, a glass table top, windows, tile and stainless steel that can all reflect light in way we don't want. It was about 10am and the sun was only coming in from the front window in the kitchen. Everything else was fairly dark. I took an overall exposure to include as much outdoor information as possible and lit the rest of the image. It was a tricky shot and took some patience.
A friend recently told me about these you can see them on Amazon here. And they may be in my future kit. I like the fact that they have lithium ion batteries, offer an insane 650 full power pops per li-ion battery and are under $135.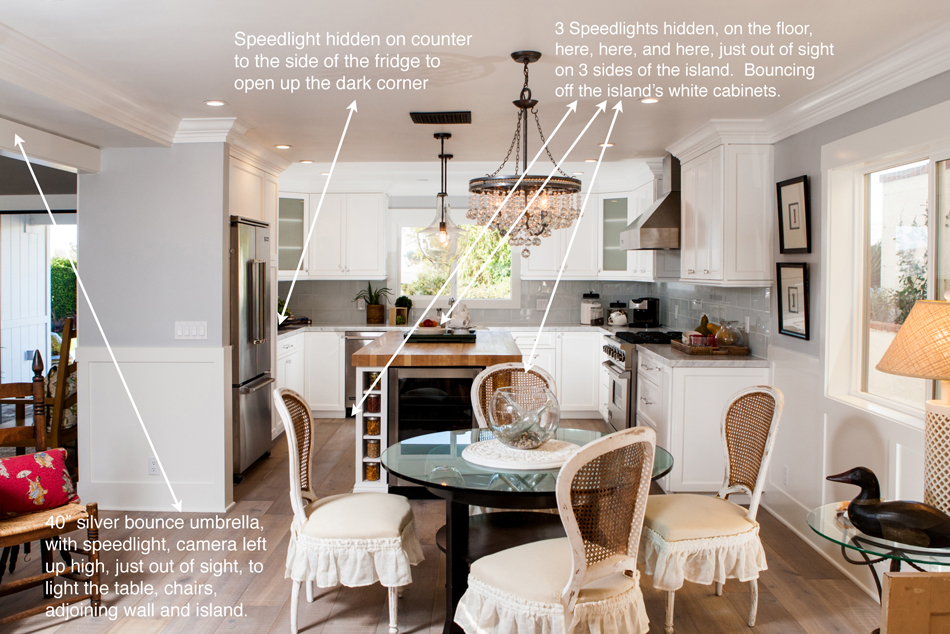 Larry writes:
"It occurred to me that if you look at the compilation of photos that have won the PFRE monthly photo contest there are some important lessons to be learned. The reason this compilation of photos is important is because they are by some of the best interior photographers and they are carefully judged and selected by the jury of past winners. Many of these photographers have progressed beyond real estate photography into upper end interior photography. So this compilation of photos is as close to a definition of quality real estate/interior photography as you will find.
Here are some real estate/interior photography principles that come to mind when I look over the several year history of PFRE contest winners:
Removing lens distortion, converging verticals, chromatic aberration color and WB problems is fundamental: Photos that have any of these problems don't even make the cut for further consideration. Removing all these distracting effects is just basic post processing.
The majority of the winners use restrained artificial (small flash) lighting: There are very few of winners that used bracketed shots processed with HDR or Exposure Fusion software. But the photos that do use HDR/EF are completed with careful attention to final finishing to reduce unbelievable color and all the classic issues that HDR and EF can have. In more recent years there is less HDR and EF than just several years ago. Winning photos are lit so that the artificial light adds to and complements the the natural ambient light.
Ultra-Wide angle lenses are used with restraint: The effective focal length for most are not very much wider than 24 mm or 20 mm.
Composition is a big factor: Seeing and visually illustrating the story of the space is very important. Positioning of the camera and careful consideration of what's included in the frame and what's excluded excluded is important. Winning photos show careful attention to detail in the area of composition.
Staging: This has to do with how the furniture and other items in the room are arranged. This arrangement contributes to the design and feeling of the room. Great interior images are usually staged and this many times doesn't happen in real estate photos. However the real estate photographer can do minor amounts of staging themselves." ~ Photographyforealestate.net