La Jolla Interior Architectural Photographer
Photographing a Luxury Ocean Front Home in La Jolla
"We are thrilled! The angles, textures, natural colors and lighting show how spectacular the house is! ~ Tim Nelson, GRI & Realtor
About this La Jolla Interior Architectural Photography: Located in the La Jolla Shores area of La Jolla, CA. This home has 4 bedrooms, 4½ bathrooms, and approximately 6,303 sq. ft. of living space. The owners spared no expense building this custom residence form the ground up in 2005. This dream house features, hand frescoed walls, high ceilings, exposed beams,walnut flooring throughout, five fire places: living room, master bedroom, master bath, great room and patio. The homes boasts a 600 bottle climate controlled wine cellar, sunna, workout area and a salt water infinity pool with sweeping coastal views.
"I was called in to reshoot this gorgeous property, 'cause the first photographer didn't get it right." ~ Marc Weisberg Photographer
Why HDR Simply Doesn't Work for Luxury Real Estate Interiors: After 7 solid hours of shooting, and a good 5 hours in post production these luxury real estate interiors and architectural photographs were ready. I was asked to come in and reshoot this property for the agent. The photographer that who photographed it previously did it all in HDR and didn't do the home justice. There were horrible colors that didn't come close to matching the architectural interiors. Nothing really looked real. And all the windows were blown out from over exposed highlights. For me to make this luxury real estate property look its best, and to show of the character of the materials, the architectural details and workmanship and the feel of the space it was super important to not over light the rooms yet still retain detail of the ocean and coastal views. The only way that this could achieved is to "drop in" the windows. The process seems simple but the execution is pain staking. This is done by taking one perfectly lit interior exposure with up to five lights, and a second exposure of the exterior ambient light. Then, in post production, through a secret sauce technique handed down to me by Photoshop shamans, the outside ambient exposure is carefully selected, and dropped in and masked to fit into the perfectly lit exposure interior exposure. No HDR was used at all in any of the interior photographs. HDR simply can not handle the dynamic range of light to dark in a natural way and retain natural detail, texture and accurate color rendition. Are my methods more time consuming than HDR. You betcha. Are the results superior? Yes they are, for this La Jolla interior architectural photographer.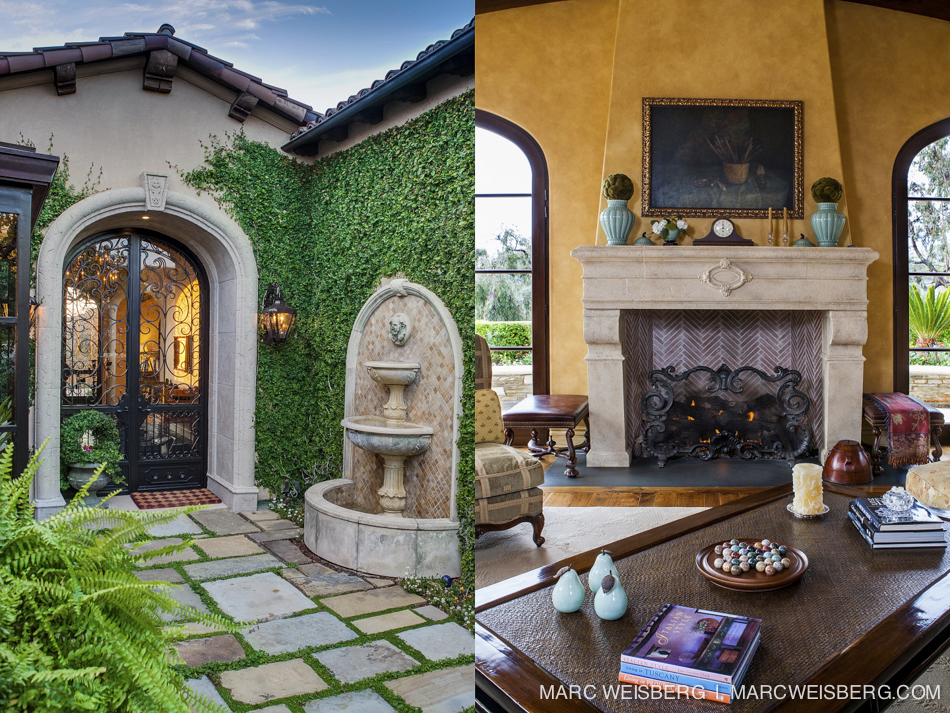 La Jolla Architectural Splendor: This old world charmer sits perfectly positioned to capture world famous, panoramic views of La Jolla Cove. Designed by Island Architects and masterfully built by Smith Brothers Construction, the attention to detail and the highest quality appointments seamlessly integrate classic style with modern functionality. Antique Italian pavers naturally flow into a spectacular great room highlighted by a barrel vault ceiling, distressed walnut floors and a massive fireplace creating a warm and inviting space to enjoy the unobstructed ocean views. The gourmet kitchen features custom cabinetry from 'French Traditions,' granite counters and limestone island. Custom pocket doors open into the family room/library with an impressive beamed cathedral ceiling, wood paneled bookshelves, fireplace with antique mantel and a Crestron system that controls all the entertainment programs. Each bedroom has an en-suite bathroom with soaking tub, walk- in shower, travertine floors, custom cabinetry and Walker/Zanger counters. A bedroom is currently set up as a large exercise room with wall-to-wall sliding doors and a cedar lined sauna with in-wall flatscreen t.v. Not to be overlooked are the 18' & 24' caissons that support the house and saltwater infinity edge pool, elevator, 3 HVAC systems serving 6 controllable zones, central vacuum system, whole house surround sound, Lutron lighting controls, and custom draperies with automatic closing systems.