LUXURY REAL ESTATE PHOTOGRAPHY WORKSHOP

Click here to find out up the next workshop.

---
"Marc's seminar was an essential stepping stone for me to go from mid-level listing agents to Luxury level listing agents. Since the seminar, I've landed new clients and more importantly turned them into repeat clientele. My quality and composition have evolved tremendously and my ability to differentiate quality has ultimately led me to higher rates for my services. Simply put the seminar has already paid off many times over. I was stunned recently when looking at my pre-workshop photography vs my post-workshop photography. The difference was day and night. I highly recommend Marc if you want to take your business to the next level."

~ A.J. Weber – Real Estate Photographer
---
"My photos have taken on a new level of luxury thanks to Marc's expert coaching in post-processing, particularly in regards to window pulls, blending ambient and flash exposures. If you're serious about improving your technique as a real estate or architectural photographer, Marc's Mastering Luxury Real Estate Workshop is a workshop you can't afford to miss."

~ Christian Viera – Real Estate Photographer
---
"This workshop is for photographers looking to fast-track themselves to creating powerful
---
WHO IS THIS REAL ESTATE PHOTOGRAPHY WORKSHOP FOR?
This Real Estate Photography Workshop is Hands-On Intensive is for photographers looking to fast-track themselves to creating powerful and compelling real estate and architectural imagery. Marc will cover everything you'll need to know over three intense days of learning. You'll be able to create images like you see in this blog post and on my Luxury Real Estate blog. Marc will go over what gear: cameras, lenses, primes, zooms and Tilt/Shift lenses, grip gear, lighting, light shaping tools, software, and postproduction techniques he uses, and why, how and when to use them. It doesn't matter what camera system you use, as long as you have a DSLR or mirrorless camera that you know your way around: Canon, Nikon, Fuji, Olympus, and Sony are all fine. We'll also be covering business strategies from client acquisition to client delivery, we'll touch on contracts and licensing of imagery. Read on to learn more about Marc's Southern California Mastering Luxury Real Estate Workshop Intensive experience.
---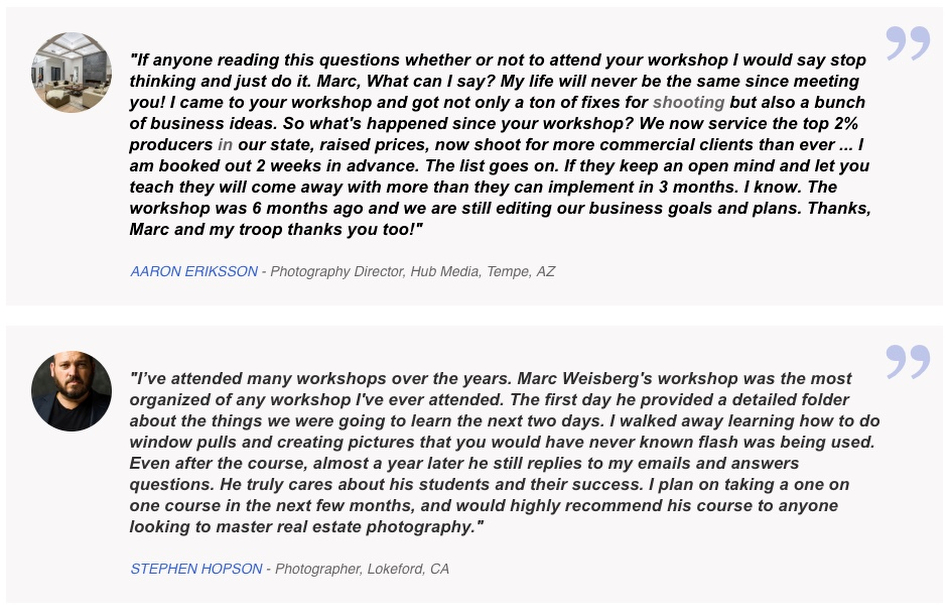 ---
"In this workshop, you'll learn how to quickly and effectively use off camera flash, how to immediatley identitfy the most powerful compositions and how to expertly photograph each scene with consistent results. You've finish the workshop with the ability to take your craft and business to the next level."

~ Mw-
---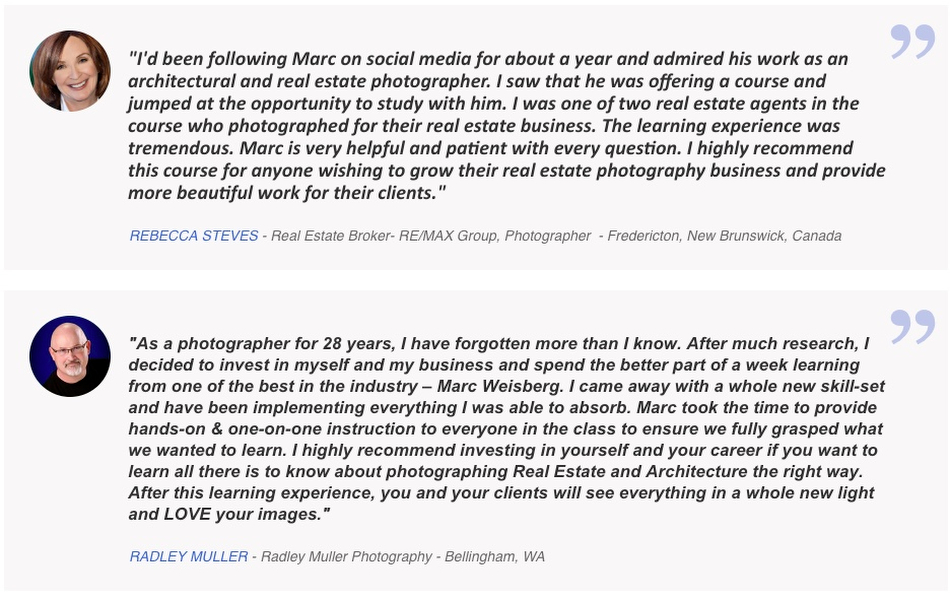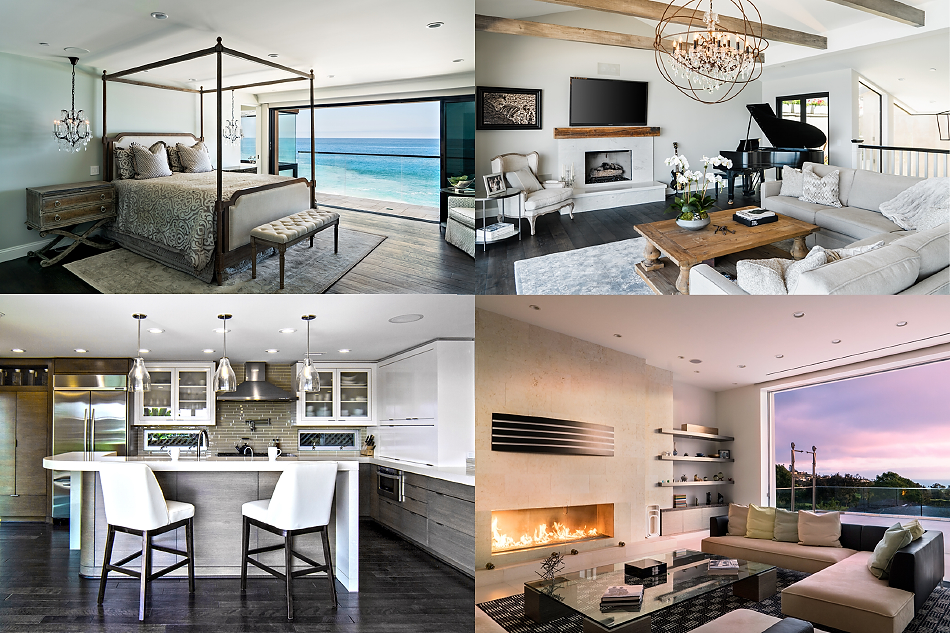 ---

"I'm proud to bring to you a Real Estate Workshop that will put you on the fast track to creating more powerful real estate imagery. This workshop intensive will supercharge your ability to create compelling RE images, teach you how to easily and affectively use off camera lighting to showcase properties better than your competition and enable you to create more dramatic images in an easy to understand four step post-production process." ~ Mw

---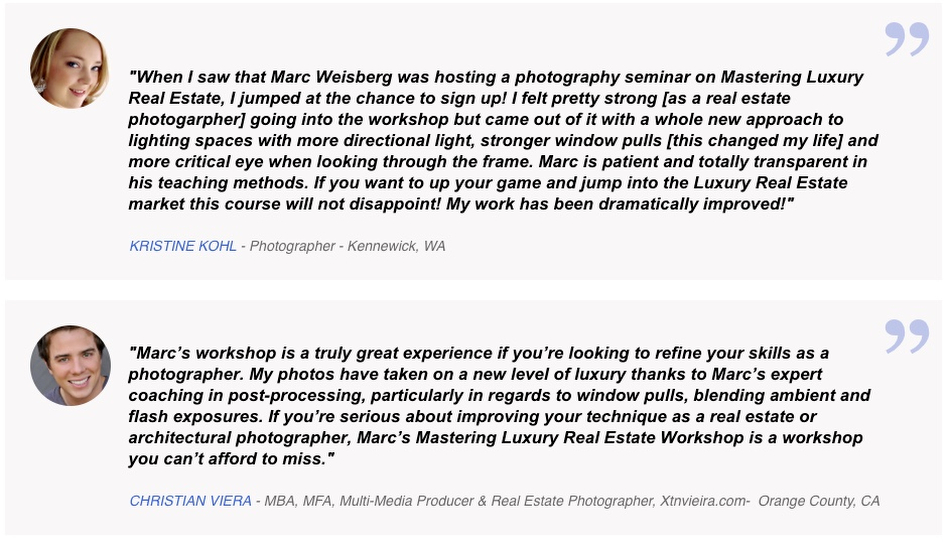 Professional Techniques for Mastering Luxury Real Estate Photography Workshop Intensive Irvine, California | Limited to 10 Participants
Luxury real estate photographer – Marc Weisberg is an open book when it comes to teaching how he captures and create magazine quality, luxury real estate photography. Marc's brand is sought out by some of the top commercial and residential real estate firms in the country. Learn what gear Marc uses, how he photographs luxury real estate and how they can save photographers and realtors time and money. Marc will share his lighting and post-production techniques that will take your photography to the next level. You will learn proven techniques for interior and exterior photography that will allow you to create repeatable results time after time no matter how difficult or seemingly impossible the real estate shoot may seem. Marc will share how to go into any home, assess it, light it, shoot it, and post-process it. You'll learn the basics, intermediate and advanced techniques in classroom modules and in a hands-on, live shoot in a luxury home real estate setting. These intensives are intense. No kidding. The days are long. You'll be challenged, you'll learn new techniques and new material. At the end of each day, you'll leave energized by what you've learned to take your craft and business to the next level, and because you've worked your brain hard you'll also be ready for some rest so you can approach the next new day and put to use the knowledge you gained during your intensive.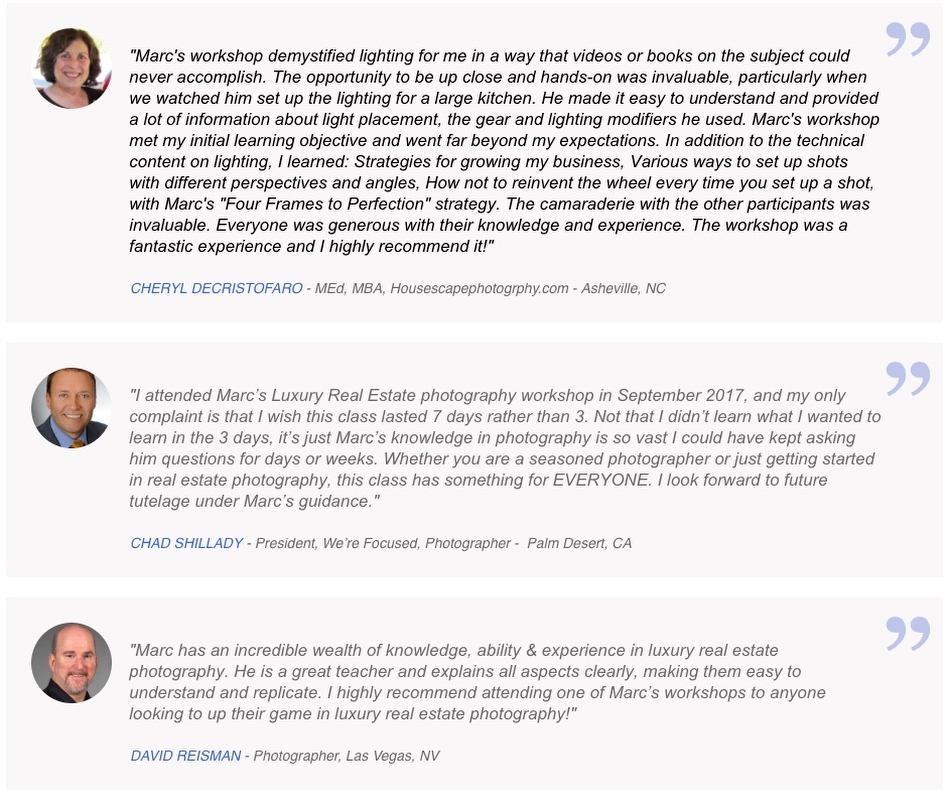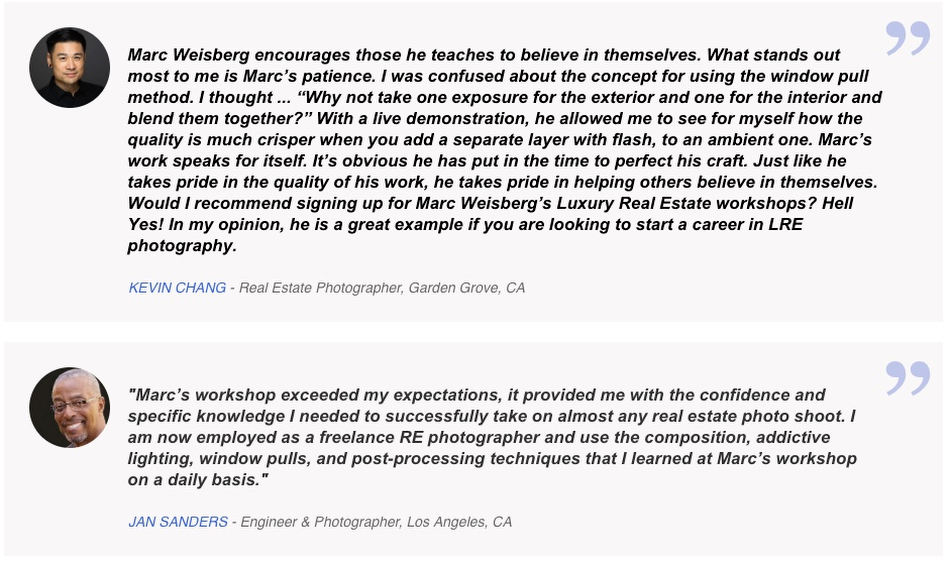 TOPICS COVERED
What's In My Bag | Marc Shares What Gear Works Best For Him, Cameras, Lenses, Lighting, Grip

&

Lighting Modifiers
Inexpensive And Cutting Edge Lighting Gear | Best Bang For Your Buck

Learn How to Prepare Your Clients For The Shoot

Learn How To Use Tilt-Shift Lenses And Optimize The Field of View and Perspective

To Tether Or Not To Tether, And What to Use

Composition | Choosing The Most Flattering – Power Compositions

How To Compose 1-Point & 2-Point Perspectives.

A 4-Step Winning Process For Photographing Any Room

How to Light Any Room

Learn How To Supplement Ambient Light Using Speedlights, AD200 and Godox 360's To Achieve Natural Looking Photos With No Evidence That Additional Lighting Was Used.

Innovative Interior Lighting Techniques

Live On Location | All Day Luxury Real Estate Photo Shoot

Getting the perfect twilight images in a single frame

Pulls ~ The Secret To Getting The Perfect Window and Interior Exposures

Learn What Must Be In Your Client Contracts | Learn Options For Licensing Your Images

Software Reveal | What To Do After The Shoot – Post Production

Learn How To Think In A Composite Mindset For Blending Multiple Exposures In Post

Post Production | From Start To Finish

Learn The Power Of Exposure Blending

Controlling and Fine Tuning Your Images With Layer Masking

Workshop Guide | Filled With Everything We Are Going To Cover | Given To Each Student for note taking and yours to keep


Outcomes
What You Learn In This Workshop can be applied to any of the sub-genres of Architectural and Real Estate Photography: Real Estate, Commercial-Residential, Commercial Real Estate Buildings & Shops, Hotels, Architecture For Architects, Restaurants, Resorts, Interiors & Interior Design Photography, Designed Outdoor Spaces, etc.
What You'll Need
A Positive Mental Attitude

A Digital Camera ~ Either A DSLR or Mirrorless, with extra batteries

24-70mm Lens, 16-35 or Wider [ wide-angle primes and 24mm primes are fine as long as there is little to no distortion ]

Optional ~ Tilt-Shift Lens 17mm or 24mm

Tripod with rubber feet ~ [ sorry, no metal feet or spiked feet allowed ]

A minimum of 2 radio triggered

speedlights

or 2- Godox AD200, or 360 or similar. Please…no large strobe heads.

Laptop for Classroom Modules



WHO IS THIS MASTERING LUXURY REAL ESTATE PHOTOGRAPHY WORKSHOP INTENSIVE PERFECT FOR?
If you are a photographer looking to raise the bar on your skill level in the field of Real Estate Photography.

Photographers looking to understand and implement off-camera lighting.

Realtors who have some knowledge of photography and are looking to photograph their own listings.

If you're looking to make the move into the luxury real estate photography market.

Those that want to achieve a natural and dramatic look to their real estate photograph perfecting both interior and exterior ambient lighting.

Photographers looking to learn a proven, comprehensive, step-by-step method for producing top quality real estate imagery from inception post-production.